Detail Product
A perfect flower gift that can symbolize your love as beautiful, wide and never ending as the galaxy.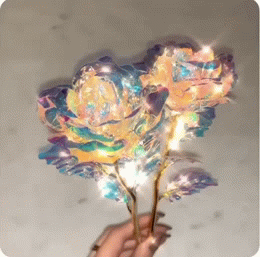 Make your loved ones feel extra special with this distinct magical flower.Galactic Roses is the PERFECT gift for your loved ones as it can symbolize that your love for them is as beautiful, wide, and never ending as the galaxy.
Each magical rose is DELICATELY HAND-MADE and is DESIGNED to LAST FOREVER. A forever reminder of your love to your loved one.
Each rose is COATED in pretty GOLD colour and COVERED in HALOGRAPHIC COATING to achieve the GALACTIC, EYE-CATCHING look. Petals and Leaf are made of holographic polyethylene and the stem is made of polyethylene material.
Galactic Roses is SAFE and NON-TOXIC. It is perfect GIFT for every special person, for any occasion.